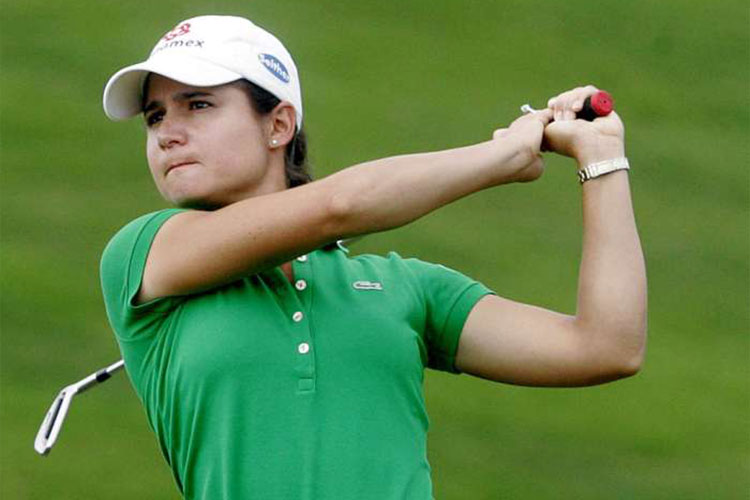 More than 60 course workers have gathered beneath a scattering of palms between the 4th green and the 5th tee at Reunion Resort & Club outside Orlando. It is Friday afternoon at the Ginn Clubs & Resorts Open, and these El Salvadorans, Guatemalans, Hondurans and Mexicans form a second gallery, identifiable by their work clothes, sweat-stained baseball caps and cocoa-colored skin. As they look out over the fairways and greens they had painstakingly groomed in the dark, pre-dawn hours, they are searching for one player in particular–Lorena Ochoa of Mexico. One of the workers, 32-year-old Tania Ramos, also of Mexico, is all smiles when Ochoa appears. "We love Lorena," she says. "She's one of us." Ochoa has given Hispanics plenty to cheer about of late. She led the Ginn Open for much of the first two rounds and wound up tied for second, two shots behind Mi-Hyun Kim. Ochoa had arrived in Orlando on the heels of a wire-to-wire win at the LPGA Take Fuji Classic in Las Vegas. The week before that, she had a runner-up finish at the Kraft Nabisco Championship, in Palm Springs, Calif., during which she shot a 62, tying the record for the lowest score in a major championship–only one highlight in a season that has seen Ochoa become the LPGA's leading money winner ($667,528).
A gifted player who joined the LPGA in 2003 after a decorated college career at Arizona, Ochoa was heralded as the player most likely to knock 67-time winner Annika Sorenstam from the top of the women's game. But Ochoa, who has four career wins, instead developed a reputation as a top-flight player who wilts under pressure. The most storied of her several final-round stumbles occurred during last year's U.S. Women's Open, at which she came to the 72nd hole one stroke off the lead only to snap hook her drive into a water hazard and finish with a demoralizing quadruple bogey.
Ochoa, 24,finally flipped the script–sort of–last month at the Kraft Nabisco. Going into the final round with a three-shot lead, she bogeyed the 12th, 13th and 15th holes to fall behind but then bounced back with a dramatic eagle at 18 to edge out Michelle Wie and former Arizona teammate Natalie Gulbis and force a playoff with eventual winner Karrie Webb. Ochoa says that surviving the rough moments of that round and sinking a clutch six-footer on the 72nd hole have imbued her with the confidence she needs to win a major this year.
During Nabisco week, the intense Ochoa also learned something beyond the scope of golf. On the Tuesday before the tournament she spotted a picture on the front page of the Los Angeles Times showing more than 500,000 Latinos who had gathered in down-town L.A. the previous Saturday to protest the deportation of undocumented immigrants and legislation proposed in Congress that would make their presence in the U.S. a felony. "When I read about and saw the immigration protests on TV, I got goose bumps," Ochoa says. "I'm not a political person, but I'm very worried about this. It's such a hard time right now. There are so many Mexicans in the U.S. who work hard to support their families here and back  home. They really value the opportunities they get here."
Since then, while traveling from tournament to tournament, Ochoa has made a point of connecting with as many Latinos as possible. The rank and file of the grounds and kitchen crews at the country clubs that host LPGA events invariably break from their daily labors to cheer their champion–the triumphant young Mexican who epitomizes the success they seek in a foreign land where opportunity comes at the expense of isolation from family and culture.
In Las Vegas, Ochoa went so far as to step off the 12th fairway and shake hands with construction workers who were building course-side condos and had hoisted asign of support on a bedsheet. On April 25, during a practice round at the Ginn, Ochoa stopped to chat with the gardeners who were planting flowers on several holes.
When Ochoa looks at these workers, she thinks not of border-crossing miscreants who deserve to be deported, but people with hopes and dreams. And to those she meets, she comes off not only as an LPGA star but also as a friendly face who can speak to them in their own language. "She's not conceited," says José Manuel Ceja, who headed a 25-man Mexican crew that worked on the Dinah Shore course during the Kraft Nabisco. "Lorena stops and talks to everybody. She asks us how our families are."
Family is foremost for Ochoa, who comes from a tightly knit clan in Guadalajara, the second largest city in Mexico (pop. 3.7 million). In this colorful, bustling place known for mariachi music and charros (cowboys), Ochoa grew up near the Guadalajara Country Club with her father, Javier, a real estate executive; her mother, Marcela, an artist; two brothers, Javier, 31, and Alejandro, 29; and asister, Daniella, 22.
"Her tremendous popularity in her country accelerated the tour's plans to expand into Mexico by years," says LPGA chief operations officer Chris Higgs. March's MasterCard Classic, near Mexico City, and the Corona Morelia Championship (Oct. 5-8), in the southwestern Mexican state of Michoacàn, were added to the LPGA schedule in 2005. This year the Corona will be run by Ochoa Sports Management, the company Lorena set up with Alejandro four years ago. Ochoa Sports is also developing three private courses in Mexico and building a public driving range (expected to be completed next year) in her hometown. Ochoa Sports plans to follow up with a public course. A charitable foundation Ochoa established 3 1/2 years ago provides lessons and practice rounds to the children of Guadalajara caddies. "She's a princess in Mexico," says Gulbis, who was paired with Ochoa at this year's MasterCard. "It's crazy. She had to have six bodyguards around her."
Ochoa returns to Guadalajara to recharge at every opportunity. It was there that she recuperated from an exhausting and disappointing conclusion to the '05 season and immediately launched into preparations for '06. She spent December–her usual off-season–running, lifting weights and adhering to a strict diet to reduce excess body fat. (The 5'5″ Ochoa weighs only 110 pounds.) She also took up yoga, which, she says, has improved her focus and helped her remain calm when the adrenaline flows during high-pressure situations.
In January she worked on her putting with Rafael Alarcón, a Mexican pro who played on the PGA Tour in 1983 and '97, and has coached Ochoa since she was 11. After the Nabisco she returned to Alarcón to make adjustments to her swing. "Lorena has a tendency, especially under pressure, to take the club back a bit [off plane],and she doesn't break her wrists until late in her back swing," says Alarcón. "We worked on getting her to break them a little earlier."
Despite her congeniality, Ochoa has a fiery competitiveness that was no doubt nurtured when, as a child, she fought for acceptance among her older brothers and their friends. "Lorena insisted on doing everything we did," says Alejandro."When she was eight, she came with us on a three-day, 80-kilometer camping trip on horseback through rugged, mountainous terrain outside Guadalajara. When we went riding on the beach and plunged our horses into the water, she would follow and swim with her horse, holding on to its mane."
Ochoa's dark,coffee-colored eyes narrow when she is asked about her inability to win a tournament in Sorenstam's presence. (Her four wins occurred in tournaments Sorenstam didn't enter.) "I'm ready," she says. "Que venga! [Lether come!]"
That fearlessness and a new found confidence have fueled her recent run of fine play, but she's also found motivation in the plight of her countrymen. "I want to give them something to cheer for in these difficult times," she says. "I came to this country too. I know what it's like to be separated from your family. There were times at school when I almost gave up and went home. I stuck it out because I wanted to be the best golfer in the world."♦