It's Friday night in Villa Allende, and Angel Cabrera is in the middle of all the action as usual. Six weeks ago he won the U.S. Open, yesterday he was feted at the Casa Rosada by the president of his native Argentina, but tonight Cabrera is back home in this hamlet on the outskirts of Cordoba, in the foothills of the Sierras Chicas. Friday nights in Villa Allende always begin in the backroom of the Almacen y Bar Condor, a local dive where Cabrera gathers with two dozen of the men he calls his companeros.
Cabrera, 37, has 16 worldwide victories and career earnings in the neighborhood of $20 million, but keeping it real is not a problem. The crowd at the Condor comprises caddies, carpenters, gardeners, handymen and other hard-living, harddrinking characters from the old barrio in Mendiolaza, the nearby town in which Cabrera grew up. His was a hard-knock life — abandoned by his parents at age three, Angel was a grade school dropout who took on menial jobs to survive. He has known many of the men at the Condor since he was a boy, and they treat him as one of their own, which is to say, disparagingly.
Women, and strangers, are not welcome in the backroom. Once the usual gang has arrived, the front doors are barred, for safety and exclusivity. The men do not talk about politics or golf or the weather. Mostly they talk trash, and Cabrera is not immune from the steady barrage of ribbing. Whereas one regular with a salt-and-pepper bouffant is called Casco (helmet), Cabrera is referred to as Pelado (bald), a nod to his rapidly receding hairline. Many of the other nicknames are unprintable.
Eventually dinner is served in the spartan backroom on rickety wooden tables. Cabrera's appetites are like his tee shots — prodigious. He homes in on a heaping platter of bifes a caballo, a dish of succulent beef buried under a blanket of runny fried eggs. Tableware is considered an extravagance with this crowd, so Cabrera grabs a chunk of the messy fare with his fingers and jams it into his mouth. He gestures for all to join in, egg yoke dripping from his hand. This is washed down by a Cordobese specialty: Coke with Fernet Branca, a bitter, aromatic spirit brewed from grapes and more than 40 herbs and spices. Fernet is made in Italy, and Cabrera likes to tell the story about a long-ago Italian Open during which he was kicked out of a restaurant because the proprietor considered it vulgar to mix Coke with such a prized digestif. Here at the Condor the concoction is chugged out of sawed-off two-liter plastic soda bottles.
Amidst this raucous scene there is an unlikely grace note. After dinner the put-upon chef theatrically raises his hands, and the room falls silent. He then belts out an evocative tango with lyrics of lost love and regret. When the song ends, the men nod their approval, and then the low roar of braggadocio resumes.
Cabrera breathes it all in, just another Friday night with his boys. "Just because I won the U.S. Open doesn't mean that I'm going to change the way I live," he says. "I'm going to continue living in Villa Allende, eating asados [barbecued meats], drinking Fernet. I'm going to do what I've always done."
Fridays may belong to the roughnecks at the Condor, but any other night of the week Cabrera is likely to be parked at the elegant bar at Novecento, a new hot spot in Villa Allende. If Novecento sounds familiar, that's because the restaurant has high-profile outposts in Miami Beach and SoHo in New York City. Villa Allende's is an unlikely addition, but Cabrera is friends with the owner of the restaurants and persuaded him to put one at Cabrera's new driving range, which opened this spring thanks to the fi nancing of Cabrera and his friend and onetime sponsor Eduardo (El Gato) Romero, the Champions tour stalwart. The range is a spiffy facility, where Cabrera can hone his freewheeling game surrounded by photos and mementos of his career. But he is equally at home at Novecento, where he mingles with Villa Allende's ruling class as they daintily pick at cheese plates and enjoy the pan-seared, sesame crusted tuna with a ginger-soy glaze.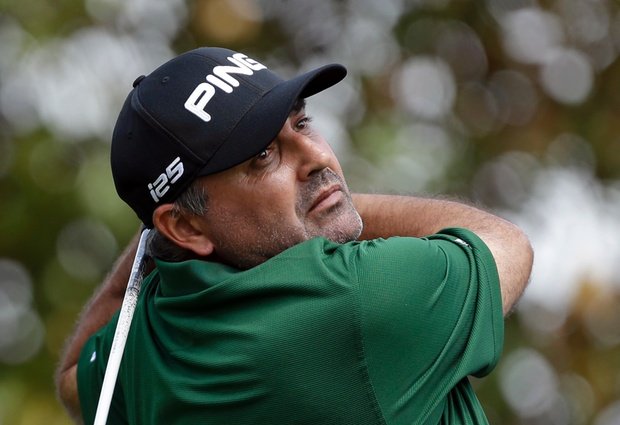 These are Cabrera's people too. It is from the upper crust of Villa Allende that he has chosen trusted friends to manage his career, look after his money and oversee the charities that benefit from his largesse. Over time, Cabrera has learned to imitate their country-club manners, transforming himself from a hardedged kid who survived on his wits and his fists into a golfing gentleman who wowed the galleries at the U.S. Open. The drive from the Condor to Novecento takes only a couple of minutes in Cabrera's black Jeep Cherokee. It is a familiar journey for a man who has spent a lifetime commuting between different worlds. Cabrera's boyhood home can be found on a quiet dirt road in Mendiolaza, on the edge of an arroyo strewn with garbage. Stray dogs wander about listlessly, ignoring the packs of children running through the streets. The simple, square house is held together by brick walls, a tin roof and a tangled family history.
Cabrera's father, Miguel, was a changarin (handyman) who is said to have shared his son's taste for spirits. His mother, Luisa, was a dark-haired beauty who worked as a maid. Angel was three or four when his parents split up. His mom took custody of his younger brother and sister, while Angel was left in the care of his paternal grandmother, Pura Concepcion, to sleep on a bunk bed in the living room of her tiny, tin-roofed house. He would live with her until he was 16, and it was a hand-to-mouth existence. Pura Concepcion was a housekeeper, and as a boy Cabrera would sometimes tag along with her to the homes of Villa Allende's elite. He did some work as a gardener for Juan Cruz Molina, a local real estate magnate. That gig ended the day Cabrera took a nap on Molina's porch. "His wife found me there and ran me off," says Cabrera with a hearty laugh. "She fired me."
Cabrera had a knack for making mischief. Villa Allende is horse country, and one of Cabrera's favorite boyhood diversions was riding horses that he and his best friend, Daniel Salibi, had liberated from the unsuspecting owners. (Another unlikely success story: Salibi is now mayor of Mendiolaza.)
When Cabrera was 10 he found a calling that would change the course of his life: He began caddying at Cordoba Country Club, an exclusive enclave that dates to 1922. Cabrera could make 25 pesos per loop, what today is the equivalent of about eight dollars. To him this was a living wage. "I didn't become a caddie because I wanted to be a caddie," he says. "I was a caddie because that was how I could make money and feed myself. It was work. It was a dignified job." Still, it took him a while to get serious about his new calling. One club member recalls a tournament at which Cabrera put down the bag he was carrying so he could chase butterflies across the fairway.
When he was in sixth grade Cabrera dropped out of school to caddie full time. As a member of the club, Molina liked to use Cabrera as a looper, but concerned for the boy's future, he offered to pay Cabrera to stay in school, to no avail. "Why should I study?" Cabrera says. "In order to carry clubs?" (It has long been whispered among the golf press that Cabrera is illiterate, but he shrugs this off. "I can read and write," he says flatly. "I went to school for six years. I just couldn't continue.")
The walk from his grandmother's house to the club is only 10 blocks uphill, but for Cabrera the journey was transforming. "I was very lucky because hanging out at a golf course was much better than being on the streets," he says. "Golf taught me a great deal. I grew up surrounded by people who were professionals — lawyers, doctors, engineers. Around them I learned how to behave, speak, eat, dress. I had nothing at home. The club was my home."
Cabrera got a different kind of education every Monday, when the club was closed and the caddies took over the place for spirited money games. In this milieu he learned to play golf and to compete. The Monday tradition endures. On a crystalclear day in late July, three dozen loopers turned up for their usual game: two-man teams, 10 pesos a hole with endless side bets. The swings were athletic and smooth, the pace of play brisk and the adherence to the rules absolute; mulligans were unheard-of, and the caddies putted out everything. Their gear and logoed attire was a mishmash of hand-me-downs from the members, and it was not unusual for a foursome to play out of the same bag. (Cabrera sometimes hands out his own sticks, which explains how one caddie came to be swinging a shiny Ping Rapture driver with 7.5 degrees of loft and an extra-stiff prototype Aldila shaft.)
The old-timers in the caddie yard all have their favorite stories of the young Cabrera, who was given the nickname El Pato (the Duck) for his waddling gait. Many of these tales involve Cabrera's temper. Says Jose Antonio Vazquez, who has been packing at Cordoba Country Club for more than 30 years, "I knew Pato was going to be a great player when he was 15 and I saw him go nuts after hitting a bad tee shot on the 10th hole. He was furious because he was so serious about the game. He practiced endlessly. He would either devour the course or it would devour him."
Cabrera's rage was not confined to the course. He was tall and skinny back then but still projected the menace of a raging bull. In Cordoba there is an indigenous dance called the cuarteto, a lively, rhythmic step similar to the merengue. The cuarteto is a staple of the Cordobese social scene, and Cabrera forged quite a reputation at the dance halls. "He was always in the street fighting," says Rodolfo Monjes, another longtime caddie at Cordoba Country Club. "Usually over a girl." Those who knew Cabrera back then retain vivid memories of his ferocity. "There was no holding Pato back," says Molina. "You could try, but he would run right through you."
Cabrera doesn't deny his pugilistic past — how can he, given the three scars that adorn his face? "I fought all the time," he says. "Here the barrios are very divided, so when we went to the cuartetos, guys from different barrios would fi ght if someone was looking at someone else's girl. Or simply because they were drunk and wanted to fight."
By his late teens Cabrera's golf game was defined by the same smashmouth style. Cordoba Country Club is a par-72 of 6,786 yards, with its primary defense being the small, sloping greens. It is wide open off the tee, and Cabrera says, "I learned to swing away. I didn't care. I was always going for it."
Cabrera showed enough promise that he was staked financially by a handful of club members, allowing him to travel to tournaments at which he quickly distinguished himself. The notion of becoming a professional golfer became increasingly attractive because Cabrera had a family to support. At 16 he had left his grandmother's house to move in a block away with his girlfriend, Silvia, who was a decade his senior. When Cabrera was 20 she gave him a son, Federico. Cabrera turned pro the next year. He allowed himself a year to make it as a touring pro or else he would find a real job. In 1995 he won the Paraguay Open and the Colombia Open, and in '96 he took the Volvo Masters of Latin America. By then he had another son, Angel.
Cabrera is a loving father unafraid to show affection — "like a big teddy bear with his boys," says his friend and swing coach, Mariano Bartolome. Cabrera is also a man of extreme dichotomies, so it is no surprise that the family life of this doting dad is also defined by bitter estrangement.
After leaving the young Angel in the care of Pura Concepcion, Miguel remarried and had four more children. Today he lives in Villa Allende, and in such a small town it is inevitable that he and his son occasionally cross paths. Not long ago Angel had bellied up to a bar when his father strolled in. Angel did not acknowledge his presence, telling a friend sitting with him, "I don't want to have anything to do with that guy." He has similarly cut out of his life his mother and the two siblings she took with her after the separation from Miguel.
It is harder to deny the existence of other blood relatives. Cabrera is now a dues-paying member at Cordoba Country Club, where Miguel's other two sons — Angel's half- brothers — work as caddies. During the recent Monday four-balls they were two of the best players on the course, which was a monochrome khaki as the bermuda grass has gone dormant in the Southern Hemisphere winter. Patricio, a slender 27-year-old, had nothing to say about his celebrated brother. Guillermo, 24, is a junior version of Angel: thick in the shoulders and a bomber off the tee. He allowed only that "we don't have any connection with him. He's hard-headed, tough, but he did grow up all alone."
Angel resists any line of questioning about his kin. "Let's not talk about that," he says, and he doesn't. It is not only reporters whom he shuts out. Bartolome traveled the South American tour with Cabrera for seven years and now regularly hangs out with him in Villa Allende, but he says of Cabrera's family situation, "It is a big mystery. It's one part of his life he keeps very, very private. Nobody knows."
Yet it is not hard to see how his fractured family has affected Cabrera. When he was a caddie at Cordoba Country Club he gravitated toward various father figures, including Molina, who gave him his first set of clubs when he was 16, and Manuel Tagle Sr., the patrician club president and an early financial backer, whose son Manuel Jr. now serves as Cabrera's agent. And for a boy who never really knew his mother, it is probably not a surprise that Cabrera fell for an older woman. (Together for more than 20 years, Angel and Silvia have never formally married.)
In 1999 Cabrera left the comfortable familiarity of the South American tour, on which he was the dominant player, to test himself in Europe. Thousands of miles from Villa Allende, he needed to create a sense of place, so he has become the patriarch in a sprawling pack of Argentine players and caddies. One of Cabrera's current proteges is Andres Romero, the engaging 26-year-old who nearly stole last month's British Open. Says Romero, "We travel together, we stay in houses together, we eat together, we play together. It is like family."
They don't cotton to outsiders, either. Cabrera loves to tell of an Irish caddie who tried to crash one of the Argentines' Fernet binges. Cabrera shooed him away with instructions to go swill some Guinness, but the caddie was insistent, so an irritated Pato poured him a particularly potent drink that was light on the Coke. Says Cabrera, "We told this guy he had to drink it in two big gulps, so he did. A little while later he had his hands in his pockets and fell face forward onto the ground." Needless to say, the caddie never returned.
When it is time to eat, not drink, Cabrera insists on doing the lion's share of the cooking, favoring a diet that seems to consist of red meat and little else. At the Scottish Open one year, Cabrera says, "we wanted to have an asado" — a cookout — "so we went to a butcher shop and persuaded the butcher to let us go into the freezer. We picked out a huge slab of rib to take with us. He wanted to cut it up, to prepare it for us, but we told him we wanted it whole, just the way it was. It was probably three feet by six feet, easily 15 kilos [33 pounds]. The butcher was stunned, but he went along with it. So we took the meat home in one chunk, but we didn't have anything to grill it on. We went to a supermarket and bought a bunch of stuff and took it to our car in the metal shopping baskets they had — the smaller ones you carry, not shopping carts. We shoved the baskets in the car and drove away. When we got home we cut up the baskets and made a grill out of them. We found bricks and rocks outside to prop up the grill. It was great, a bunch of Argentines eating and drinking beer and wine and Fernet."
It is a measure of how effectively Cabrera has exported his Villa Allende lifestyle that he has never bothered to learn English. "I'm not interested in learning," he says. "Anyway, do you know what [Roberto] De Vicenzo" — the patron saint of Argentine golf — "said to me about fi ve years ago? 'Don't worry — if you shoot in the 60s, everyone will understand you. If you shoot 72 or higher, you will starve to death.'"
At the U.S. Open, Cabrera was introduced to the world as a brooding character of few words and many cigarettes, an embodiment of the gauchos that populate Argentine folklore. Even Cabrera's game fit the image. His ball striking is as loud and startling as the crack of a whip. At his champion's press conference, conducted through an interpreter, he was reserved to the point of being sullen. Part of this was due to the language barrier, part of it was his old-school belief that the glory is in the achievement, not in the mythologizing of it.
Cabrera's standoffishness obscures a soft heart. He has donated money to build a facility for disabled children in Villa Allende — it is overseen by Maria Tagle, the mother of Cabrera's agent — and elsewhere in Mendiolaza he has funded a new municipal sports and arts center. At Cordoba Country Club there are numerous stories of Cabrera's helping a caddie who has fallen on hard times or paying the medical bills of a looper's sick child. Cabrera still venerates the caddie culture that shaped him, and he and Eduardo Romero, a fellow Cordoba native and member at the club, are helping pay for a deluxe new caddie shack. "I remember what that life was like," says Cabrera.
He would like his sons to have a little of his old hunger, but how can they? As a kid Cabrera stole horses if he wanted to go riding. Federico, 18, and Angel, 16, have two country houses to choose from if they want to ride their own horses. Both boys are also serious golfers, and Federico especially is considered a big-time talent. Though he gives away some 30 pounds, he occasionally outdrives his dad. "If I let him," Angel says with a smirk. In 2006 Federico played in the U.S. Publinks and two weeks ago journeyed to Miami for a U.S. Amateur sectional but failed to qualify. As for whether he'd like to see Federico follow in his footsteps, Cabrera says, "He's the owner of his own destiny." He doesn't voice the biggest knock on his son, but Federico's close friend Herman Tagle, the younger brother of Cabrera's agent, is more blunt: "Federico is pure talent, but he's lazy."
That may explain why Angel insists that his sons tee it up every Monday at the club with the caddies, where the soft, spoiled progeny of a U.S. Open champ are forced to match the intensity of grown men playing for their supper. It is also a chance for the boys to appreciate their father's old life. Every now and then they run into their uncles Patricio and Guillermo, whom Angel left behind long ago.
When the FedEx Cup playoffs begin next week, Cabrera will be happy to be there, unlike some of golf 's other stars. Because of the travel hassles that come with living in Villa Allende, Cabrera likes to go on the road for three- or four-week bursts, so the quartet of playoff events is ideal for him. If he survives the weekly cut and plays in all four tournaments, it will allow him to fulfill the minimum of 15 events necessary to retain the PGA Tour membership that he claimed in 2006. But while the U.S. Open victory has opened up the world to Cabrera, his home base will remain the European tour, not surprisingly, because that is where he feels most at home. Of the proposition of playing full time in America, he says, "I don't think I could adjust to the lifestyle."
At 42nd in the point standings, Cabrera is a long shot to win the FedEx Cup, although he's so streaky you can never count him out. He is less concerned with the details of a clunky points system than he is with simply making a strong showing in four important tournaments. Before the U.S. Open, Cabrera was considered an extravagantly talented underachiever, lacking only self-belief. "Now I know I can win anything," he says, and he is eager to get started.
But the U.S. Open has made it clear that Cabrera's legacy will be defined by more than his collection of trophies. "To win the Open was very special, very big, very important for Argentina and the people and for golf in my country," says Jose Coceres, another Argentine caddie turned successful touring pro. "Futbol fans, people on the street, they watched and cheered. For some it was the first time they ever watched golf."
Cabrera is eager to use this capital to increase the meager number of golfers in his country. So far he has concentrated his efforts at the grassroots level around Cordoba. He has been lobbying the provincial government to provide seed money and scholarships for young golfers, and Cabrera has begun personally sponsoring a group of youths, backing that includes giving them access to his driving range. (One promising player is allowed unlimited practice balls for free in exchange for working as an instructor to other kids.)
Cabrera takes an obvious pride in giving back to the game that has given him so much. He came to golf making 25 pesos a day and can scarcely believe that over the four FedEx Cup tournaments he will be playing for $35 million. As much as Cabrera has prospered from the make-believe world of the PGA Tour, that's not who he is. The real Pato is still found on Friday nights in Villa Allende.
When we leave him at Almacen y Bar Condor, he is merrily eating and drinking with his amigos, and the party continues until 1 a.m., when Cabrera finally departs. His night isn't over yet. A few hours later he is banging on the door of a house belonging to a longtime friend, Juan Domingo Monjes. Inexorably, Cabrera has wound up in his old barrio. Three blocks away is the shabby little house he grew up in with his grandmother, and just up the hill beyond that the Cordoba Country Club. Why here, why now? Cabrera has just spent a long day and night talking about himself and his life. Maybe he needs to connect with his past in a visceral way. Then again, maybe he is just drunk and has the munchies. When he awakens Monjes, he informs him that they are going to have an asado. Right now.
In his own home, a hilltop mansion built three years ago, Cabrera has an expansive wine cellar and a four-by-ninefoot indoor brick grill on which he cooks only the best cuts of meat from a local rancher who feeds his animals special grains. Under the stars with Monjes, he is not nearly as picky. They don't have a grill, so Cabrera digs one out of the dirt, using rocks and anything else he can scavenge in the yard to construct his parilla de asado.
Later that morning Monjes recounts his tale, sounding as if he can't quite believe it really happened. Cabrera is nowhere to be seen, but the embers he left behind are still smoldering.♦